The wind turbine of Nogent-le-Roi was an experimental wind turbine designed to test concepts but full-scale mass production of electricity was not his first goal.
It ran from March 15, 1958 to April 12, 1962. It produced 220,540 kW over the period. This prototype had a regular operation with winds above 17 m / s. On 30 August 1960, it jumped in a few seconds from 300 KWto 900 kWh.
However, it has exceeded almost twice its rated power 650 kWh), reaching a day of strong wind, a peak of 1,025 KW27 October 1959 at about 11h15). Total production of noon for that day was 10 megawatts. This feat has severely damaged the machine, damaging seriously the generator and the clutch. They had to be dismounted and the machine was stopped for 3 months.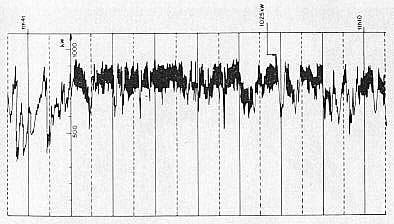 The record on 10/27/1959
The current of 3000 volts produced by the generator was raised to 15,000 volts before being sent on a temporary power line along the D 148. This line is then divided into two branches at the level of the path of Chandres:
An inverter air allowed manual sending of the power down to the city. This operation took place only once but Nogent inhabitants never knew that someday, their city had been powered in part by wind energy.