Although Pierre Ailleret (1900-1996), Polytechnician and Directeur des Etudes et de la Recherche at EDF from 1948 to 1958 (Place des Etats-Unis in Paris) and André Argand (a graduate of the Ecole Centrale), Head of its Wind Energy Division from 1948 to 1966 (also on rue Hamelin in Paris) constantly ensured that research on wind energy and the Nogent-le-Roi experiment remained discreet, the press could not pass over such a conspicuous machine erected on the Thymerais plain.
Several press articles have been published on that wind turbine which has the advantage of setting precise dates. We have found some of them.
| | | | | |
| --- | --- | --- | --- | --- |
| Date | | Journal | | Article (extrait) |
| | | | | |
| Thursday, September 12, 1957 | | L'Echo Républicain | | Page 3, Column 3: "Close to Nogent-le-Roi, a station for the study of wind energy is being installed." |
| Thursday, October 3, 1957 | | La République du Centre | | Page 2 on 4 columns one can see two photographs of the wind turbine at the end of construction. The cranes of the Société des Monteurs-Levageurs companies are still present. These two pictures are the oldest I know. |
| Thursday, November 21, 1957 | | La République du Centre | | Page 4, a block of twenty lines indicates that the previous day (November 20, 1957), in the morning, "the enormous engine has been in operating position" indicating that the wind turbine is close to being completely upright for the first time. |
| Friday, February 15, 1958 | | Le Parisien Libéré | | On the front, a picture of the vertical wind turbine unshrouded and partly tarpaulin is titled "What is this strange machine?". Page 5, Article 3 columns demonstrated optimism: "A giant wind turbine can produce electricity for the whole region" (sic). |
| Saturday, February 21, 1958 | | Le Figaro Littéraire (sic) | | Subtitle: "And the World's largest wind turbine has been born in Eure-et-Loir". An article, by Fernand Lot of 5 columns, page 11. A photo shows the nacelle of the turbine part tarpaulin for final refit. |
| May 1958 | | Contacts N° 11 | | The only known article published by an official organ of EDF (Communication Department). Pages 5-9 in a story by Maurice Roche and Michel Brigaud. You can see a picture of the particular configuration "Y" which is highlighted on this site and the plaque at the entrance to the "Docking studies of wind energy". |
| Monday, September 29, 1958 | | La République du Centre | | Reads "Since Tuesday [September 23, 1958], the wind turbine [...] stands in the sky of Nogent-le-Roi." The photos show the wind turbine fairing. The implementation is therefore final. Page 2 of 2 columns. The journal-title to the front on the outcome of the constitutional referendum of 1958. |
| Friday, October 3, 1958 | | L'Echo Républicain | | An article mentions that "The wind turbine [...] will enter service in the coming days". But the photos, taken much earlier, show the wind turbine being completed. Page 4 of 3 columns. |
Secondly, an article titled "Wind", the Quillet Dictionary in three volumes (edition 1963), is illustrated with two photographs. One shows a "wind wheel in Brazil" for pumping irrigation water, the other the « wind turbine generator of Nogent-le-Roi ».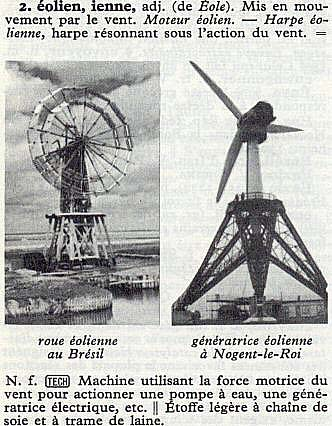 Dictionnaire Pratique Quillet (1963)
Editions of the « Petit Larousse Illustré » of that era have similar articles.
The « Quid 2000 » indicates in the article « Wind Energy »: « France, Nogent-le-Roi (Eure-et-Loir), experimental wind turbine of 0.8 MW, 30.2 m propeller, worked from 1958 to 1962. ».
To be read:
« The wind, as a source of energy », a lecture delivered May 23, 1975 (and again in 1976 and 1977) by Lucien Romani at Université de Montpellier.
« The electrical energy from wind », Revue Générale de l'Electricité, January 1982, No. 1 by André Argand former Head of the Division Energie du Vent at Direction des Etudes et Recherches of EDF.
« The achievements of EDF on wind energy », R. Bonnefille, La Houille Blanche, 1975.
« Lucien Romani 1909-1990, Scientific Work » published by the Association pour la Création et la Diffusion Scientifique (ACDS), Observatory of Triel-sur-Seine (Yvelines) in December 1991.
A history of EDF, J-F Picard et al. Dunod, 1985. ISBN: 978-2-04-016402-7 (page 96). One can read this quote from P. Ailleret: « We had two wind turbines: one in Saint-Remy-des-Landes and a more interesting close to Chartres. Thereupon they broke with a blade and we stayed there. ».
Wind Energy - Principles and case studies, Marc Rapin & Jean-Marc Noël, Dunod, 2012, ISBN : 978-2-10-050801-3 (pages 22 to 31),
Research and industry. Testimonials about forty years of study and research at Electricite de France, JF Picard, Eyrolles, 1987 ISBN: 978-2-21-201216-1 (Pages 44 to 46),
P. Bruyerre, "The power of the wind.

From windmills to modern wind turbines

", Histoire et techniques, Presses Universitaires du Midi, 2020 (ISBN: 978-2-8107-0675-4)

See also the page related to G. Rauline et N.A.S.A. on this website.
---