Short biography:
The only biography ofLucienRomaniI ever heard of,isa curriculum-vitaewritten byhimself andwhich he qualify himself a "subjective". It is datedDecember 6, 1983. This « Subjective Curriculum » has been published by the Association pour la Création et la Diffusion Scientifiquein december 1991
There we learn that Lucien Romani, born in 1909, is sent by his parents to the countryside during the First World War. It was at the village school he got his certificat d'études primaires, the only degree he ever had. Subsequently, he says, he studied at random and only what interested him. His favorite books were the books in the library of his older brother Gaston Romani, amateur astronomer, the « Astronomie populaire » and « Cyrano de Bergerac ».
Between the wars, he makes a living as hand of an architect. Good player of chess amateur, he is the main contributor of a monthly magazine.
On day, he wrote to the french astronomer Henry Minor to submit a draft of a « star meter on cliché » which, according to Lucien Romani, made Minor seduced. The fact remains that, on the recommendation of the latter, Professor Joseph Peres hired him at the Laboratory of Electrical Analogies of the Sorbonne. He worked secretly throughout the war in the basement of the Ecole Normale Supérieure under the authority of the mathematician Henri Villat.
« Without any diploma and resistant to any hierarchy » he decided in 1946 to create his own research office and entrust the administrative management to his elder Gaston Romani. The Bureau des études scientifiques et techniques (BEST) was headquartered Leonidas Street in the 14th district of Paris. The BEST which counted up to forty people, worked self-financing for twenty years.
In 1966, the end of the wind turbine of Nogent-le-Roi, the failure of the two rotors wind turbine; the death, about the same time, of his brother Gaston led the BEST in the liquidation.
Lucien Romani was then appointed as Directeur Technique at the Soufflerie Eiffel, rue Boileau, Paris 16th (Experimental Aerodynamics).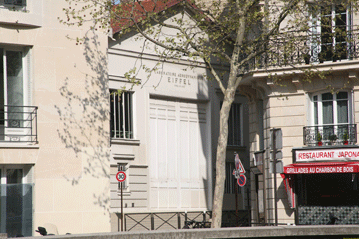 He should put an end to his life in 1990.
The work of

Lucien

Romani

:

Lucien Romani was particularly prolific and eclectic. He had somewhat iconoclastic writings in various fields. As he writes himself, he was « cyclothymic » and has little discipline. « I spend any time, in my fantasy, from physics to biology, from biology to astronomy [...]. In any field, I have only one goal: to reach the truth. Too bad no matter how unpleasant, so what if it hurts, so what if it bothers. [...]. I do not attach any importance to the consensus of the mandarins and their students or to the argument of authority ».

With such a character, it is conceivable that Lucien Romani could engage in various writings as an attempt to renovation of « Theoretical Physics » (no less!) or a « general theory of evolution » where he sweeps of hand neo-Darwinism without wearing any attention to the concrete and tangible results of basic genetics. Noticing that the Cartesian method is not enough, it develops two others: one he calls « amalgam » is anticartésian (it includes two or more less related problems to solve them all at once); the other so-called « parallel analysis » is neutral, it is a promotion of reasoning by analogy.

This « missed autodidact » as he calls himself, could have been only a illuminated Professor Nimbus. The fact is that - and it is curious that he does not mention this in his autobiography - he mastered perfectly aerodynamics and basically anything that touched directly or indirectly to the wind. The ACDS, in the document that was published on the scientific work of Lucien Romani, counted fifty patents filed by Lucien Romani, between May 23, 1947 (« High-lift device for aerofoil with strong arrow towards back » , patent 1,000,856) and April 4, 1978 (« Improvement to generators of energy », patent 1,422,226). The full text of these patents relates to the dynamics of gaz and - of course - on wind energy (his second patent, filed January 20, 1948, is already on the « Development for wind turbines », No. 1006473) .

However, Lucien Romani would probably have fallen into oblivion if he had not had the wind turbine of Nogent-le-Roi, which allowed him to show - and how - the measure of his genius and his theoretical knowledge technical expertise.
Lucien Romani and the les Cavey:
Although my father has finally been an employee of the BEST that from 1 January 1955 to April 30, 1960, he remained in connection with Lucien Romani until his death in 1990.
I was 8 in 1955 and 13 in 1960. I remember the visits him we were going to him and his wife, the lovely and patient Andree Romani, at Verrieres-le-Buisson, where I drank his words like whey.
I saw him again later when, with his wife he use to do ​​visits to my parents in the Loir-et-Cher. The time had passed and I became Agronomist INA. Our discussion of his theories of evolution were the most vibrant and just as most exciting.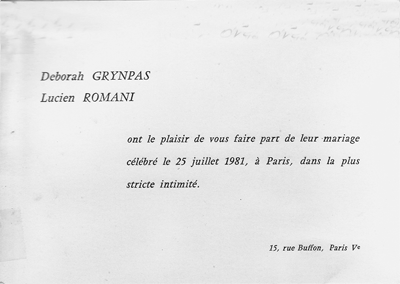 L. Romani remarriage announcement
Lucien Romani, had endorsed the theories of William H. Sheldon (Somatotype Theory, « in Varieties of Human Physique », Harper & Brothers, 1940) and Melvin Page, Henry Bieler and Elliot Abravanel, (Glandular Type Theory), related to the psychomorphology of individuals that is controlled by their hormonal balance (theory of glandular types). According to these theories, which - from the standpoint of the biologist - there is nothing absurd, hypothesize a link between certain physical features (general shape, face shape, shape of hands) and behavior psychic, the link being the dominant hormone. There would be a typology thyroid, adrenal, pituitary, etc. ... Although I am myself never fond of this theory, I had the opportunity to put him into indirect link with Professor Delpech, who taught this theory at the Sorbonne. Thus August 3, 1981, in a handwritten letter, where he told my father's of death last year of his wife and his remarriage, Lucien Romani notes: « You can tell your son that has get me in touch with Professor Delpech, that I am very grateful. Prof. became a very good friend of mine who introduced me into the CNRS ».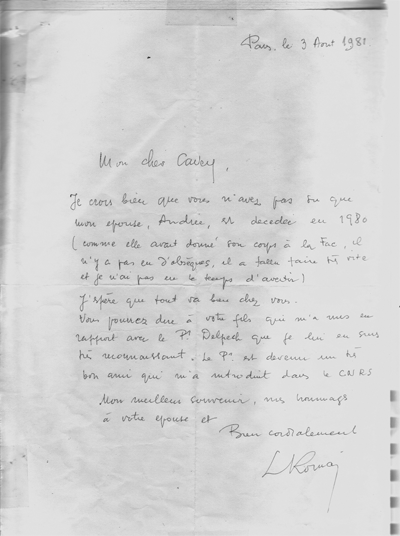 Autograph letter from Lucien Romani in 1981.
Few publications (in French) on or of Romani Lucien found on the Internet: