From the end of the forties, Lucien Romani had approached the Institut Aerotechnique (IAT) of Saint-Cyr l'Ecole (Yvelines) where my father worked (aerial view of the site today).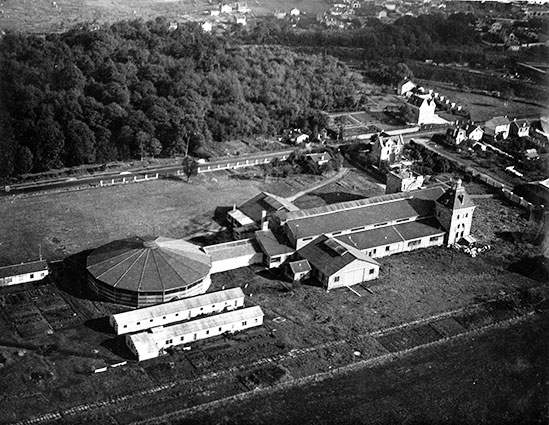 General view of the Institut AéroTechnique de Saint-Cyr l'Ecole circa 1931-1932.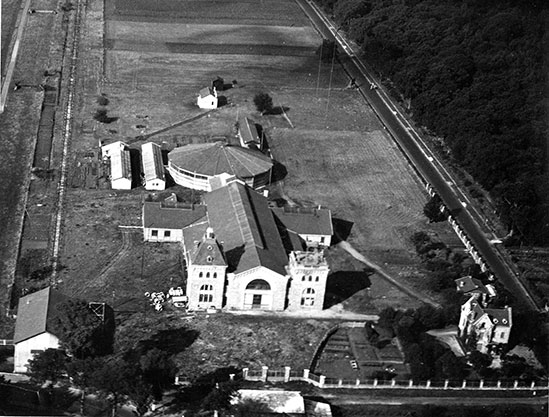 Aerial view of the IAT circa 1931-1932.
This small wind energy research station had two purposes:
To test wind turbines.
To develop means of measuring the performance of the future wind turbine at Nogent-le-Roi, which involved research into the structure of the moving air.

Several models of small wind turbines were tested on metal towers. The last one was the BEST-Romani 10 KVA wind generator.
Not only wind turbines were tested here:
The CDC - Ailleret anemometer stood at the top of the highest of the three towers, testifying to the interest that the Polytechnician Pierre Ailleret had in the study of winds long before he took over the Direction of Studies and Research of Electricité de France (there is a room Pierre Ailleret at EDF R&D in Clamart).
the Romani anemometer, whose sensor was a striated vertical cylinder mechanically linked to a balance equipped with strain gauges introduced into a "Wheatstone bridge" type electrical circuit.
Cheap cups anemometers counting the number of revolutions of the butterfly system. These anemometers were distributed to willing volunteers: schoolteachers, town hall secretaries, etc., who agreed to devote part of their time to taking readings (most of them were already equipped with mini-weather stations and sent their measurements to the Office National Météorologique in Trappes).
The research station was also used to develop measuring gauges coupled with recorders using the Poggendorff method (measurement by opposition).
These devices required controls, developments or calibration within the precincts of the research station itself or in the wind tunnel of the close Institut Aerotechnique.
On the first of January 1955, my father was recruited by the BEST and his first tasks were to monitor this wind generator and the measuring equipment, which he measured daily.
Models derived from the BEST-Romani experimental wind generator (10 KVA) were produced by the Aérowatt company and equipped the Service des Phares et Balises as well as the Paul-Emile Victor weather stations in Terre-Adélie. There is some doubt about the links between BEST and Aérowatt. According to André Argand, Head of the Wind Energy Division at EDF's Direction des Etudes et Recherches, Aérowatt would have been a subsidiary of the Commissariat à l'Energie Atomique and BEST would have had a share in it. However, this claim could not be verified. The fact is that when Aérowatt's wind turbines experienced technical problems, it was often BEST's engineers and technicians who intervened (notably the Sept Iles lighthouse, off Ploumanac'h).
The company Aérowatt was bought by Marc Vergnet's Société Vergnet SA which still manufactures and sells wind turbines under this brand.